Sienna Gold
is out most popular marble colour and has a light cream background colour with subtle white veins running through it. Sienna Gold will appeal to almost all homeowners.
Milano Beige
has a light background colour with subtle brown flakes. Milano beige does not have any veining running through it and is an ideal marble for a modern, contemporary, chic minimalist homes.
Antique White
is a very modern marble colour and will look lovely in the right setting. Antique White does not have any veining running through. Antique White marble has a sophisticated, clean, crisp white background colour with a subtle hint of clear crystals.
Sherwood Overview
Inspired by Art Deco design, the sweeping inglenook light chambers make an interesting feature & glamorous feel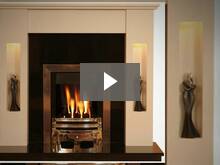 Fititng Overview
Made with easy installation in mind. Supplied in 7 easy ready made sections with factory fitted with concealed brackets.All surround pieces have a +/- 5 mm manufacturing tolerance.
Rebate Explained
Can be manufactured with a 75mm recess to fit an electric fire against a flat wall, or a with the back panel pushed as far back to the wall as possible if you have a chimney
Down lights
Carefully crafted within the top header of the fire surround. Clutter free with a recessed switch under
Product Description
The Sherwood is a lovely timeless fire surround which boasts two cleverly carved symmetrical inglenooks in the fireplace columns. The majority of homeowners also opt for down lights in the inglenooks as shown. This simplistic fire surround will complement almost all rooms or decors due to its minimalist undertone and clean crisp lines
Delivery and Returns
Custom made and ready for dispatch within a few weeks from order
back to top
Product Dimensions
| | | |
| --- | --- | --- |
| | | |
| Surround | Back Panel | Hearth |
| | |
| --- | --- |
| A | 48" 1219mm |
| B | 44" 1118mm |
| C | 7" 178mm |
| D | 15" 380mm |
| E | 48" 1219mm |
| L | 28" 711mm approximately |
| M | 33" 838mm approximately |

| | |
| --- | --- |
| N | 16.25" 413mm |
| O | 22.25" 565mm |

Regular Size

| | |
| --- | --- |
| D | 15" 380mm |
| E | 48" 1219mm |
| | |
| P | 2.25" 60mm |
| Q | 1/2" 12mm |
| | |
| --- | --- |
| A | 54" 1372mm |
| B | 44" 1118mm |
| C | 7" 178mm |
| D | 15" 380mm |
| E | 54" 1372mm |
| L | 34" 864mm approximately |
| M | 33" 838mm approximately |

| | |
| --- | --- |
| N | 16.25" 413mm |
| O | 22.25" 565mm |

Grand Size

| | |
| --- | --- |
| D | 15" 380mm |
| E | 54" 1372mm |
| | |
| P | 2.25" 60mm |
| Q | 1/2" 12mm |
| | |
| --- | --- |
| A | 42" 1067mm |
| B | 44" 1118mm |
| C | 7" 178mm |
| D | 15" 380mm |
| E | 42" 1067mm |
| L | 24" 610mm approximately |
| M | 33" 787mm approximately |

| | |
| --- | --- |
| N | 16.25" 413mm |
| O | 22.25" 565mm |

Petite Size

| | |
| --- | --- |
| D | 15" 380mm |
| E | 42" 1067mm |
| | |
| P | 2.25" 60mm |
| Q | 1/2" 12mm |